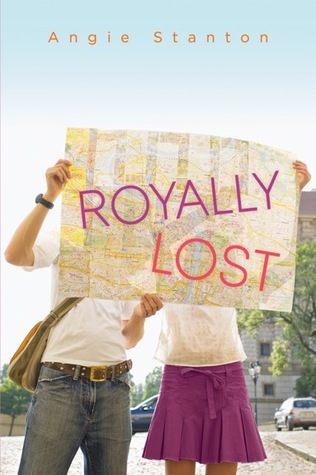 Goodreads Discription:
Dragged on a family trip to Europe's ancient cities, Becca wants nothing more than to go home. Trapped with her emotionally distant father, over-eager stepmother, and a brother who only wants to hook up with European hotties, Becca is miserable. That is until she meets Nikolai, a guy as mysterious as he is handsome. And she unknowingly finds herself with a runaway prince.

Nikolai has everything a guy could ask for-he's crown prince, heir to the throne, and girls adore him. But the one thing he doesn't have...is freedom. Staging a coup, he flees his kingdom and goes undercover on his own European tour.

When Nikolai and Becca meet, it's their differences that draw them together. Sparks fly as they share a whirlwind of adventures, all the while dodging his royal guard. But Becca's family vacation ends in a matter of days. Will Nikolai and Becca be forced to say goodbye forever, will his destiny catch up to him, or will they change history forever?

Title: Royally Lost
Author: Angie Stanton
Genre: YA, Contemporary, Romance, Chick Lit,
Format: Paperback
Pages: 336 pages
Source: Purchased from the Book Depository



I saw Epic Reads website recommending this book for those who love Anna and The French Kiss by Stephine Perkin so I got my hands onto the book depository and ordered it since i as in a happy contemporary/ Stephine Perkin kick.
Royally Lost is a fun road trip/backpacking adventure around Europe reads with a cute summer romance although expect the book to be a realistic read. The romance between Nikolai and Becca at the start was one of the cheesiest insta-love I've read (and was not a big fan of) even though Nikolai didn't exactly fall head over heals for her but was attracted to her cause of some similarities in her. Still I enjoyed the development of their relationship! Happy, cute and fun with its twist and turns.
Becca came out strong, sassy and down to earth. Described as your typical 'All American Girl' at the start, freshly graduated from high school but unsure of what to peruse in college is dragged on a family vacation to cruise around Europe with her distance workaholic father, young overly eager stepmother and party/womanizer but caring and protective older brother Dylan.
One thing about the book that stood out from others is the close brother-sister relationship between Becca Dylan. This is refreshing as in the book Becca and Dylan relationship came out as realistic and relatable. Yes they have their fights and bickers but they have some good moments like covering for each other when they are sneaking away from their parents. I rarely find good close age brother-sister relationship in YA as in most books the characters are only child, a sister-sister or brother-brother relationship, the siblings are significantly older or younger than the characters or that they are out of the picture.
My only complain of the two is that both characters keep whining and complaining on their trip around Europe. I meant I'll be grateful and happy dancing if I was given a chance to travel to Europe as a graduation/family vacation. Though I don't blame them for the awkwardness and distance from the new step mum and distance father.
Nicolai or should i say Prince Nicolai is SWOONNNN ! Charming, cheeky and freaking smart (history nerd anyone?) I fell for his charms the moment I opened the book. Yes some of the ways he handle himself/situation was not ideal but he manages to redeemed himself in the end of the day. Also some of the stuff he does gives me a heart attack as its very daring. Trough the book he is running from his strict traditional Royall family along with trying to hide from the paparazzi and blending with the locals.
I am not a big fan of Selina Gomez's songs but this song reminded me of the book.
Check this book out if you like 'Prince Undercover' stories, adventurous Europe roadtrips, a romance that will make you swoon and grin and a great fast pace summer/pick me up reads.
If you could go to anyplace in the world for a summer vacation where will it be?
I definitely will choose Europe (Switzerland preferred) but I also want to travel to the Philippines and USA someday.