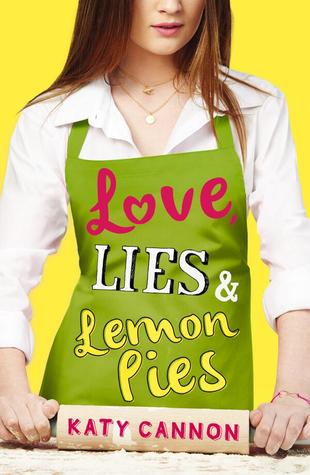 Love, Lies and Lemon Pies, the debut YA novel from Katy Cannon, is the perfect summer read for fans of Sarah Dessen and Louise Rennison. With a Bake Club recipe at the start of each chapter, this book perfectly captures the current appetite for all things baking!
Lottie, our narrator, captures the experience of a young teenage girl navigating the world of school cliques, difficult teachers and new romance, creating a world that young readers are sure to recognize. Since her dad died, life hasn't been the same for Lottie - it was easier to push her friends away than cope with their awkwardness. But when the school suggest she joins Bake Club to get her back on track, Lottie reluctantly agrees. But Lottie's uncertainty about Bake Club melts away as she rekindles her love of baking and gets caught up with Mac, the school rebel and another unwilling Bake Club member.
Both Lottie and Mac have secrets to keep, and as Bake Club progresses towards an end-of-year competition, the tension rises between the Bake Club members.
Can Lottie keep up the facade of her perfect life without the others finding out what's really going on at home? Can Mac keep his demanding, heavy-handed father off his back - not to mention the school counsellor who's written him off as a no-hoper? And can their bubbling romance survive the pressure?
Title: Love, Lies and Lemon Pies
Author: Katy Cannon
Genre: Contemporary,
Format: Paperback
I devoured this book in two sitting (well I was on a bus and a plane so what do you expect me to do for 2 + 4 hours)! In a nutshell, 'Love, Lies and Lemon Pie' is like a mash up of devouring blueberry muffins, an addictive BBC drama, the breakfast club and a marathon of Nigella Lawson cooking show.
As the title says love lies and lemon pie, expect great friendship, romances, lots of drama and mouth watering recipes.
I picked this up randomly at Dymocks with no clue about the book a part from the title and cover screaming foodie YA, this major foodie (the prove is on the instagram on the side bar *hint *nudge *wink) had to get it!

Set in the UK, each chapter starts out with a recipe of the food they are making and trough the story we follow Lolita and her friends as they work out baking skills for a baking competition and a chance to win an internship in Paris at a French bakery.
The cast of characters were amazing! Its interesting to see how the different characters mingle with each other and it works so well.


Lottie has a lot of issues with the fact she recently loss her dad in an accident. Cause of that her grades has been dropping and her mum has a problem with hording. Pestered by the school's principal to join an extra curriculum, she joins the bake club where she re discover her passion for baking, make new friends and finds love.
I enjoyed reading about Lottie. Caring and sweet, she is also intelligent and passionate with doing what she loves. Even so she is not a perfect person and have some flaws. Insecure with her mum's hording, she keeps it a secret and try's to hide it from her friends and teachers.
I adore her relationship with Mac through the book! I also love her courage of dating Mac even though all her teachers disapprove of their relationship as they don't want a 'good girl' fail in life cause she was dating a 'bad boy' situation in their hands and enjoy watching proving to them that she can 'change' Max. Also I love how as their relationship progresses,
On the outside, Mac looks like the typical 'Mysterious Bad Boy' who is always into trouble but once you get to know about him and his secrets and issues he's just a misunderstood guy. He is one of those complex characters as the book progresses we see many layers of him unfold.
Apart from Lottie And Mac I really enjoy the character Jasper and Ella and I really want a book bout those two.
Apparently there is a sequel coming out in February called 'Secrets, Schemes and Sewing Machines' based off
Much Ado About Nothing
following thecharacter Grace. I was not a fan of Grace in this book and
I HATE
SEWING
but I'll still pick it up as the romance here one of those
love-hate
relationship (aka my favorite kind of romance).
I like how its cute and fluffy yet it managed to deal with some serious issues in a light hearted way like getting over loosing a love one and mental illness.
This book is sweeter than fiction.
Check this book out this sweet book if you love foodie YA and cute fluffy romance with a hint of drama and lots of baking!


Also, have a book friendly snack (or a meal) with you you as you
might
get hungry when reading the chapter about chocolate chip cookies, apple pie or even ginger bread!