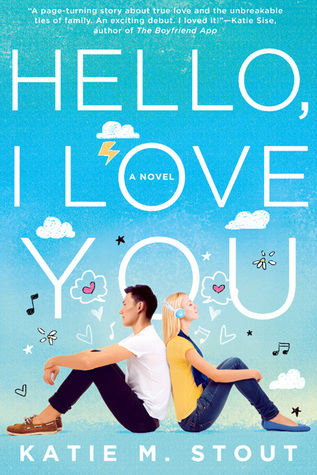 Goodreads Description:
A teen escapes to a boarding school abroad and falls for a Korean pop star in this fun and fresh romantic novel in the vein of Anna and the French Kiss.

Grace Wilde is running—from the multi-million dollar mansion her record producer father bought, the famous older brother who's topped the country music charts five years in a row, and the mother who blames her for her brother's breakdown. Grace escapes to the farthest place from home she can think of, a boarding school in Korea, hoping for a fresh start.

She wants nothing to do with music, but when her roommate Sophie's twin brother Jason turns out to be the newest Korean pop music superstar, Grace is thrust back into the world of fame. She can't stand Jason, whose celebrity status is only outmatched by his oversized ego, but they form a tenuous alliance for the sake of her friendship with Sophie. As the months go by and Grace adjusts to her new life in Korea, even she can't deny the sparks flying between her and the KPOP idol.

Soon, Grace realizes that her feelings for Jason threaten her promise to herself that she'll leave behind the music industry that destroyed her family. But can Grace ignore her attraction to Jason and her undeniable pull of the music she was born to write? Sweet, fun, and romantic, this young adult novel explores what it means to experience first love and discover who you really are in the process.

Title: Hello, I Love You
Author: Katie M. Stout
Genre: Contemporary, Romance, YA,
Format: ebook, ARC
Pages: 304 pages
Publisher: St. Martin's Griffin
Source:
ARC was received in exchanged for an honest review from NetGalley
Oh gosh my head is up in the air of how do I rate this book...
Grace goes to an international boarding school in Korea for her final year of high school after tragedy struck her family. She's the daughter of one of the biggest country music mogul and producer as well as the sister of one of the biggest country singers around. There in Korea she befriends with her roommate Sophie and be enemies with her twin brother Jason who is one of the newest K-Pop star in the industry. While adapting to her new life in Korea and avoiding the problems back home, Grace finds herself falling for Jason even though she sworn off being associated with anyone in the music industry.
When I first heard about this book it reminds me of Anna and the French Kiss meets Korea Drama and I don't know if any of you guys watch those drama but they are the most cringe worthty, dramatic, cheesiest and cliches things my eyeballs have ever experience and but they are also additively and laugh out loud hilarious thing ever! That was my experience with this book! I cringe at the cheesy dialogs and rolled my eyes at the cliche things the characters thinks/ does but still at the end of the day was addicted to the story and enjoyed it a lot more than I expected. It was a hard to get into book especially since the MC was already pissing me off in within the first 10% of the book with racist chopstick remarks (and FYI in case any of you guys don't know I'm Chinese Malaysian). But after pushing myself trough I found myself forgetting why I mad and carrying on what happens next.

I liked the pacing of the book even though I was not a fan of how the relationships were build. Though it was predictable, I did like predicting the mystery surrounding Grace's brother
Grace was not my favorite MC but is not the worst. She's going trough a hard time with her family especially her mum at home, hence her moving to Korea. I don't dislike her as a character and do empathise her especially when you learn why she's 'running away' from home for but I hated how she handled some of the situations.
I adored Sophie! I really like her as a character and her relationships with both Grace and the brother Jason.

Jason was a love hate character for me as his cold and moody attitude put me off while I did like his passion for music.

Now some (or should i say a long list) of things I was not a fan of the book. Firstly like Grace I went to a boarding school for my last year of high school overseas and lived in a dorm filled with international students mostly from South East Asia. I was cringing at Grace's remark about how the dorm only have chopsticks. I'm pretty sure they'll have provided forks and knife no matter what. Another thing that made me cringe and almost flung my reading device was her going all 'love at first sight hottest Korean guy' remark as the insta love siren in my head beep. keep in mind this is just the first 10% of the book. There are more cringe cliches and inaccurate facts about Korea in the book that made me roll my eyes, but instead I'm not gonna turn this into a negative review (as I did enjoy some things) but focus on the positive.

I enjoyed reading the sibling relationships in the book especially Sophie and Jason's. It was real and fun to watch their sibling bantering.

My favorite thing about this book is THE ROMANCE! *Play Katy Perry Hot and Cold* No joke the one thing I feel the author nailed is the love hate relationship (which is my cream de la cream of all love hate relatiohship)! Grace and Jason's relationship also reminds me a bit of the relationship between Tessa and Hardie in the After series where one moment they are cold towards each other and the next they are the sweetest thing ever! Also I enjoyed that they bonded over music and their common ground of parent/family problem.

Overall this is not the best thing I've read but its definitely not the worst. I keep thinking this as a polished wattpad story or a K-pop fanfiction.
This is probably the most disappointing book I've been anticipating of 2015. It had potential to be a new favorite book though sadly it had A LOT of flaws and in accurate facts not to mentioned PISSING ME (and probably the WHOLE of ASIA) within the first 10% of the book.
If you have read Anna and The French Kiss... Skip this, If you have NOT read Anna and the French Kiss also SKIP this as that's better in story, characters and overall. If you are curious, bout the book read a sample or check it out of the library before checking it out.