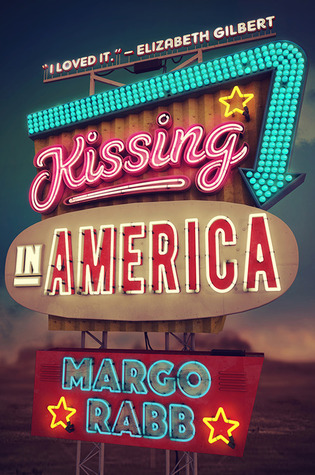 Goodreads Description:
In the two years since her father died, sixteen-year-old Eva has found comfort in reading romance novels—118 of them, to be exact—to dull the pain of her loss that's still so present. Her romantic fantasies become a reality when she meets Will, who seems to truly understand Eva's grief. Unfortunately, after Eva falls head-over-heels for him, he picks up and moves to California without any warning. Not wanting to lose the only person who has been able to pull her out of sadness—and, perhaps, her shot at real love—Eva and her best friend, Annie, concoct a plan to travel to the west coast to see Will again. As they road trip across America, Eva and Annie confront the complex truth about love.

In this honest and emotional journey that National Book Award finalist Sara Zarr calls "gorgeous, funny, and joyous," readers will experience the highs of infatuation and the lows of heartache as Eva contends with love in all of its forms.
Title: Kissing in America
Author: Margo Rabb
Genre: Contemporary, YA, Coming of age
Format: e-book, ARC
Pages: 400 pages
Publisher: Harper Collins
Source:
ARC was received in exchanged for an honest review from NetGalley
I'll admit from the start that this was a cover pick cause
COME ON
when a big billboard with the word 'KISSING' is on the cover it screams romance and I'm in!
HOWEVER this book was not really a romance book but a coming of age story about love (and not just romantic love).
Eva's dad died in a plane crash two years prior to the book and since then she has finds comfort in reading romance novels which also means rebelling on her feminist mother. Eva then falls for a boy she tutors in school name Will who understands what she's trough so when Will unexpectedly moves across the country to California, Eva convince best friend Annie auditions for a quiz show called 'Smartest girl in America' which gives her the chance to see will again. Because Eva's scared of flying (due to obvious reasons), they decided to take a road trip where they encounter Eva's crazy Aunt Janet, Annie's cousin Grace, some actual swoon worthy cowboys and Eva's mum's best friend Lulu. There are a couple of side stories like Eva and her mum's relationship and Eva and her love for writing which she has abandon ever since her dad passes away as it was a connection she had with her dad.
I like Eva's narration but was not that a fan of her as a character. While I enjoy her inner monologues and funny remarks, I got annoyed with her character, one stupid decision after another. While I did empathise with her on some level like her mum being OVERLY over protective, was not a fan of her going across the country just to see the guy she likes. Even so those decisions, she does learn from her mistakes and this a great example that a main character does not have to be likable to be enjoyable.
One thing that stood out for me was the amazing and diverse cast of side characters. While I did like Annie and Aunt Janet, Lulu was my favorite of the bunch. Each character has a great sidestory and of them all I find Lulu's the more intriguing and meaningful.
While I did like the story I found the pacing slow and it took a while for me to click with the story. I also wish we got to see more of Eva and her mum's relationship as I feel like something is missing. Even so I really like the writing especially near the end where I went highlighting happy in my Kindle as there were a lot of really beautiful and meaningful. I also love the road trip element as THIS is how a road trip should be written, full of spontaneous moments.
Now the 'hint' of romance, though it ended bittersweet (and kinda makes me want to punch Will as he was a flipping jackass), it was realistic and ended a lot than I expected.
When I was in high school, we had a genre of poems to study called 'Relationship' and everyone thought Relationship = romance. We eventually found out that it does not necessary means romance and kinda got turn off cause of a long winded poem *cough*
william butler yeats's 'a prayer for my daughter'
and switch that genre to 'Conflict'. Looking back, it made me now realise that every relationship is a love story in its own way.
This book is a love story but a love story between Eve and her mum as well as the ones she love.
Overall, while there were some stuff in the book I was not a fan off I still really did enjoy it! A great and meaningful coming off story about grieve and moving on, love between a daughter and her mother (or in this case mother figures) and of cause a great road trip adventure!
6.5/10
Check this book out of the library or read a sample of the book before you go out and purchase it.